Turn on suggestions
Auto-suggest helps you quickly narrow down your search results by suggesting possible matches as you type.
Showing results for 
gileswalker
Creator
Mark as New

Bookmark

Subscribe

Mute
Hi All
I am posting up a bug I have found in nPrinting:
Qlik NPrinting September 2018 SR2
Version: 18.29.9.0
I am also on Qlik Sense Sep-18.
It has taken me a day to fix this issue, but trial and error, so I thought I would share this knowledge.
I have upgraded from a prior version of nPrinting (circa Jun-17) to the above mentioned version. Suddenly reports that ran perfect in the past now have blank charts, or the reports simply fail in nPrinting.
The issue is that nPrinting 18 cannot seem to manage itself when it is referencing a stacked bar chart in Qlik Sense, and also line charts where there are e.g. 2 dimensions creating a lot of lines. I have several KPI apps in Sense that have these charts, and in old nPrinting, it could handle it no problem. nPrinting would take the data from Sense and display it in nPrinting (in Excel shell).
Example of the type of visuals I am talking about are standard Qlik Sense visuals:
During my trials to resolve I observed the following.
Opening nPrinting report now shows you where it decides the errors are - I put the red squares around each set of data fields that related to each Sense visualization otherwise its a nightmare to read:

It gives you options to remove individual errors, or all at once, but you can also just 'ok' without selecting any to remove, or just cancel to get into nPrinting designer (in excel in my case).
Because nPrinting errors are quite challenging to resolve in my opinion, I did a few things like found the object already in the list of tables, right clicked, and then clicked 'update' to see if that would help, and for all the above errors, the object changes from a normal looking object like this: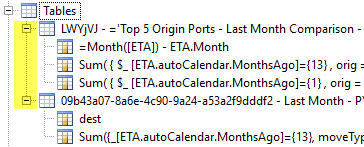 .......to this.......
(Note these 2 images are not the actual images, they are just to highlight the change seen).
Note: these objects can no longer be expanded like a tree/hierarchy, so detailed manipulation in nPrinting cannot be done. As I'm trying to retro fit these updates into the existing structure of the report in nPrinting, this makes it impossible/really hard to continue.
My need was to get the data to be available in nPrinting with that hierarchy/tree structure available.
So I cancelled out of nPrinting without saving....a great lesson learned from mistakes of the past!
What I discovered after a lot of trialing, is that what had to happen was to open the Sense App, and convert the stacked bar chart and the line charts to tables, by simply dragging the table icon and dropping it on the existing chart visual....pretty standard Sense stuff. Once I had converted all the relevant charts, I reloaded the entire data set into Sense via Sense Data Load Editor, and then did a reload of metadata in nPrinting. (Note, just doing the metadata reload in nPrinting wasn't dragging the data through for some reason, but reloading the app, then reloading metadata seemed to do it......another bug?)
Next I opened up the report in nPrinting, and the massive list of errors was gone, however in running/previewing the report to produce output, there was still some blank charts, the same as initially.
So next, I found each object that had been listed in the list of errors above, and I updated each one (right click, Update), and although nPrint said there was nothing to update, something was happening in the background as it hung each time I did this for about 5 seconds, and then the cursor went to the top of the list - not seen that before in nPrint when there is no update!
Next, I located each object in the list and dragged the necessary fields back to the existing cells in the Excel Editor where they were originally located and just dropped over the top . Once all done I saved and closed the editor.
Then I ran my task linked to the report, and it pulled everything through 100% ok.
This took me ages to find out, by trial and error, and it was very frustrating. It was totally unobvious to me that this needed to happen.
It seems there is a bug in nPrinting that should be ironed out to ensure that compatibility between standard Sense objects and nPrinting exists and is 100% stable for all interations of charts.
I hope I save someone else the pain of spending a day trouble shooting this issue.
7 Replies