Turn on suggestions
Auto-suggest helps you quickly narrow down your search results by suggesting possible matches as you type.
Showing results for 
Mark as New

Bookmark

Subscribe

Mute
Failed to get app becuse there is no app loaded?
Got this error message today using 1.1 version of Qlik Sense Server.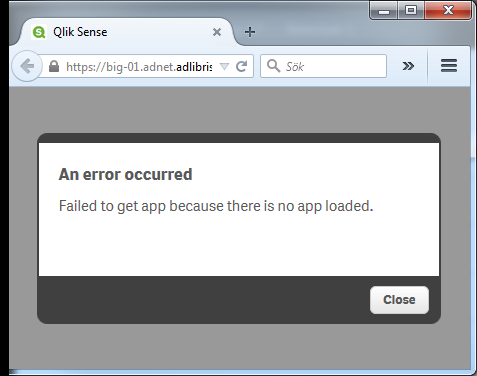 I know experienced on several occasions corrupted apps, and at one time sheets disappearing and now this. Will this be fixed in the next version? Is it a known issues?
The stability of Qlik Sense Server is not good when you loose content you created, and with no build in backup feature or version control you feel a huge uncertainty developing. Manually backing up your apps shouldn't be necassary in an Enterprise product like Qlik Sense Server.
1 Solution
Mark as New

Bookmark

Subscribe

Mute
Hi everyone,
I got some help from our consulting firm. They suggested looking in to the EXIT() function. The problem I have is that I have Qlik Sense 2.1.1 installed on an EC2 instance that we shut down after business hours to save some money. If a reload task is running when the shutdown is taking places that corrupts the file. So we fixed it with a exit script that is referenced from every other script at the beginning of the qvs file.
Exit.qvs



  Let vExitStartTime = Num(MakeTime(6,20),'0.000','.');




  Let vExitEndTime = Num(MakeTime(18,30),'0.000','.');




  Let vNow = MakeTime(Hour(Now()),Minute(Now()));




  Let vNowNum = Num(vNow,'0.000','.');




     




  If( $(vNowNum)<$(vExitStartTime) OR $(vNowNum)>$(vExitEndTime)) Then;




      TRACE $(vNowNum);




      TRACE $(vExitStartTime);




      TRACE $(vExitEndTime);




      TRACE $(vNow);




      TRACE 'Exit Script';




      Exit Script;




  END if



And this is how you reference it from another script file.
$(Must_Include=[lib://YOUR_SCRIPT FOLDER/Exit.qvs]);
The traces is just to log what's happening at what times. This is because I don't trust Qlik Sense notion of time. All my reload tasked was 1 hour early because day light savings last week and I had to delete the events and create a new for it to work properly.
On other thing is that the IF statement needs to use a number format with a "." as decimal separator, doesn't work if your local number format uses a "," instead.
Best regards
Karl
18 Replies