Turn on suggestions
Auto-suggest helps you quickly narrow down your search results by suggesting possible matches as you type.
Showing results for 
flytrapper
Contributor II
Mark as New

Bookmark

Subscribe

Mute
Stored files not visible in QMC Content Library
I have a script that generates a file and places it in a Content Library.
There is a Folder Data Connection for this Content Library.
When I open the Folder Data Connection and view the contents of that Content Library while in the Data Load Editor, I can see those files, as expected: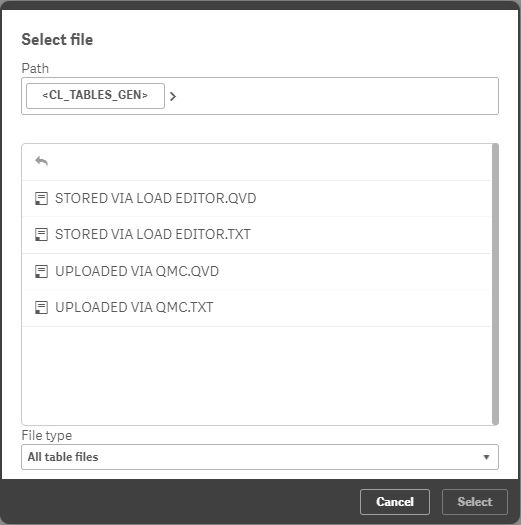 In this instance, the two files STORED VIA LOAD EDITOR.QVD and STORED VIA LOAD EDITOR.TXT were generated in the load editor and saved via the STORE command.
The other two files listed were (as one would expect from their names) uploaded directly to the Content Library in the QMC.
No surprises here.
But wait, there's more!
If I view the contents of this same Content Library in the QMC, the two files that were stored via the load editor are not visible:
Is this normal behavior? Is there a reason that Qlik Sense would not display the generated-and-stored files?
I cannot find anything to suggest that there is a permissions issue at work here. For example, if I upload a file via the QMC called STORED VIA LOAD EDITOR.TXT, I am not presented with an "overwrite or cancel" prompt - it simply overwrites it. If I then delete the newly-uploaded file, it no longer appears in the Folder Data Connection view of the files in Qlik Sense.
This seems like odd behavior to me, but if "it is what it is", I'll deal with it. Am I missing something?
--Mike
1 Reply
MK9885
Master II
Mark as New

Bookmark

Subscribe

Mute
I'm not sure and never tried this but Content Library doesn't automatically reads all your files maybe it has to be done manually.
Or if you could find Content library folder on server, store those files there and check if it is visible?
But I do not think they would be as you've an upload option in QMC, which itself says you need to manually upload the files. Same like adding images into Content library, it would only read default images available and when you add a new image to content folder, it would be available for you.