Turn on suggestions
Auto-suggest helps you quickly narrow down your search results by suggesting possible matches as you type.
Showing results for 
Mark as New

Bookmark

Subscribe

Mute
Web-View doesn't properly support more than 37 expr. columns in pivot table?
Similar to another post I saw (referenced below) I'm having issues with wide pivot tables in web-view.
Unexpected exception occurred on Ajax Pivot Table
The pivot has 3 vertical dimensions (year, quarter, month) and one horizontal dimension (Contract Year).

In the image shown above I've got two expressions. To ensure that this isn't data-related I've not done any exciting calculations and the expressions are just "=1", "=2".
When I switch to Web View and right-click on a cell I get pop-up menu.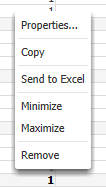 However, when I scroll across far enough and do this I get a message-box stating that an unexpected error occurred.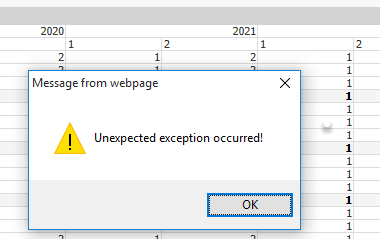 In addition to not being able to right-click on the cell to get the pop-up menu, it's also lost the functionality whereby clicking the cell applies filtering to the dimensions.
The interesting bit of this is that the error appears only after the 37th column in the pivot table. I've tried it with two, three, four, and five expressions and it's consistent about this. Each time, the failure to respond normally to clicks begins on the 38th expression column.
It's as if there is some limit on the number of expression columns that are properly supported on a pivot in the Web View. Does anyone know if this is the case and if this value can be modified?
I've attached an example QVW if anyone fancies having a play. You'll need to do a re-load - the script contains structures to generate the test date. It currently shows four expression columns. It works just fine in the Personal Edition normal view, but switch to web-view and then scroll over to 2010 and right-click on something in the '1' column (37th in the grid)- you'll see the menu. Try the '2' column (38th in the grid) and you'll get the error message. Similarly, clicking on the cell in column 37 will apply dimension filters and clicking on column 38 won't.
Any help would be much appreciated as my clients are going just a teeny bit nuts.
Thanks.
1 Solution
marcus_sommer
MVP & Luminary
Mark as New

Bookmark

Subscribe

Mute
You need to choose the plugin by opening the application. If you clicked on "view details" by the application within the access point you should have now to options for opening. One is the AJAX client and one the IE plugin. If you don't see it there you need to enable the access with the plugin within the qmc by documents --> server --> availability.
- Marcus
11 Replies