Turn on suggestions
Auto-suggest helps you quickly narrow down your search results by suggesting possible matches as you type.
Showing results for 
Mark as New

Bookmark

Subscribe

Mute
QlikSense 2.2.4 and STORE to QVD
Hello everyone,
does anyone else experience problems when STORE'ing data to QVD file specifically on 2.2.4 QlikSense??? (2.1.1 works fine)
Example:
SET QVD_APMOKEJIMAI='apmokejimai.qvd';

SET QVD_BIUDZETAS='biuzetas.qvd';

SET QVD_BALANSAS='balansas.qvd';

SET QVD_DU='du.qvd';

SET QVD_SANDELYS='nurasymai.qvd';

SET QVD_TOTAL_BAL='summary_balansas.qvd';

SET QVD_TOTAL_FIN='summary_fin.qvd';

SET QVD_STORE=1;

// ----CUTTED, Simplified --- //

If DayStart(Alt(QvdCreateTime('$(QVD_SANDELYS)'),FileTime('$(QVD_SANDELYS)'),0)) < DayStart(Now()) Then

[SANDELYS]:

SQL SELECT

DATA,

GRUPE,

Sum(KIEKIS*SAVIK) as SUMA

FROM snd

GROUP BY DATA,GRUPE

;

If $(QVD_STORE) THEN

Store SANDELYS into '$(QVD_SANDELYS)'(QVD);

END IF;

ELSE

[SANDELYS]:

LOAD * FROM '$(QVD_SANDELYS)'(QVD);

END IF;
The following code "fails" on STORE command. The funny thing is: QlikSense successfully runs all the script and does not return any errors in the output. QVD files ARE created succesfully: they appeared in the folder and no errors found by monitoring with SysInternals ProcMonitor.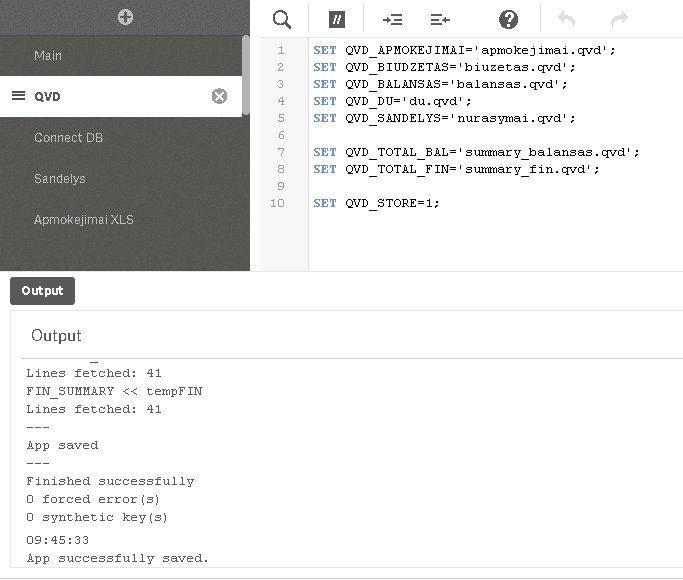 But in the data manager window, errors appear:
Data load script execution completed with errors. Some tables may not be shown

Same thing on next run (that is LOAD'ing from saved cache QVD file):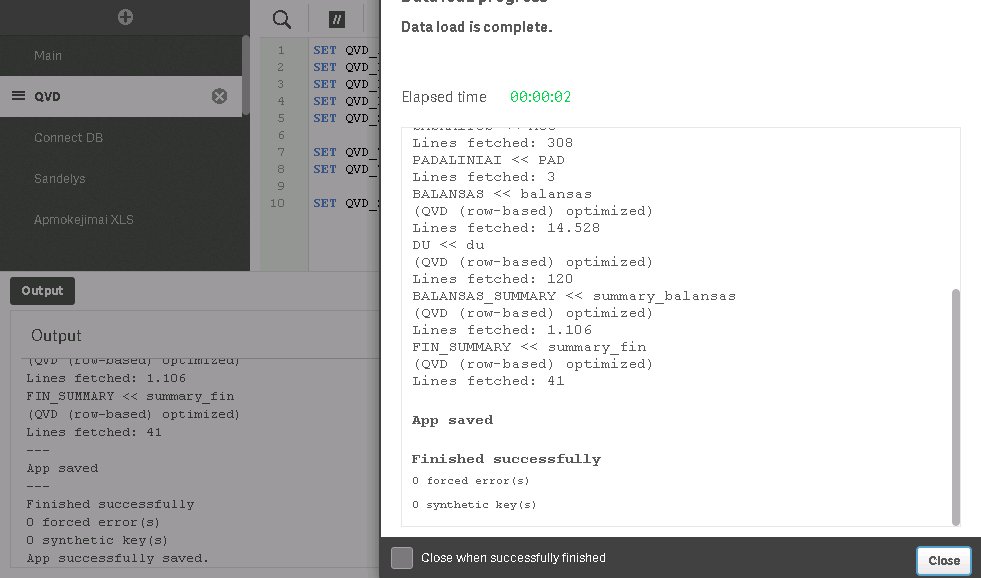 Worked on QlikSense Desktop 2.1.1.0 !
SENSE-ID 2.2.4+Build 60.release/ms15
0 Replies